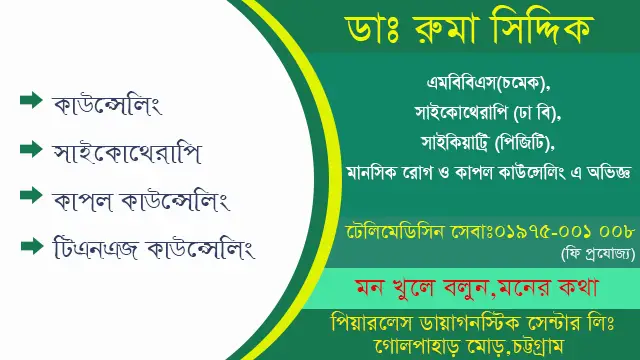 B.Sc. Hon's in (Psychology), DU
M. Sc. in (Clinical Psychology), DU
Experience: Counselor, Cantonment English School & College, Chittagong
Former Campus Psychologist, Asian University for Women, Chittagong
Former Lecturer & Psychosocial Counselor
Green University of Bangladesh, Dhaka.
Contact: 01816066067 (Please take an appointment before coming )
Chamber: (1)     Sheba Diagnostic Center,
Faruk Bhobon, 576/77, O.R Nizam Road,In front of Badna Shah Mazar, Probortok Moor, Chittagong.
Time: every Saturday and Tuesday
3 pm – 9 pm
Chamber:(2)   Medical Square,
K.B. Aman Ali Road, Besides Rahattarpool Jame Moshjid, Chittagong.
Time: every Thursday
3 pm -8 pm